In June 2021, we opened our third location in scenic Superior. To celebrate, we will be hosting an open house and ribbon-cutting event in September! At this location, we'll continue to provide high-quality compassionate chiropractic care, a hallmark of our practice for more than 25 years!
The Details
Date: Wednesday, September 1, 2021
Time: 2:00 pm – 6:00 pm
At 4:00 pm, representatives from the Superior Douglas County Area Chamber of Commerce will perform the ribbon cutting to celebrate the opening of the office.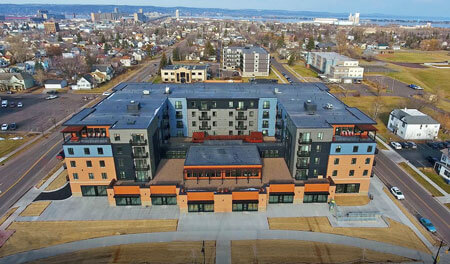 Location: Our Superior Office – Imperium Chiropractic – 1001 Belknap St., Suite 111, Superior, WI 54880
The event will allow attendees to learn more about our Superior office and chiropractic care. Light snacks/hors d'oeuvres will be offered for your enjoyment.
A Beautiful Space & Friendly Faces
When you first step inside the Superior office, you'll see our beautiful contemporary space. Here, you'll receive modern chiropractic care paired with a genuine commitment to cultivating relationships with each patient. We want to get to know you and what's important to you. Here, you'll never be considered a number or an appointment, but a valued patient.
Get to Know Our Chiropractor in Superior
As the sole chiropractor at this location, Dr. Zimmer provides family-friendly care to patients of all ages. Whether he's helping young children get off to a healthy start in life or older seniors improve their function so they can enjoy their golden years, Dr. Zimmer provides customized care that gets remarkable results.
We Are Here for You
Whether it's pain relief or wellness care you're seeking, we are committed to providing an exceptional experience at every visit.
We look forward to seeing you on the first of September!